There is an art to gift-giving.  And sometimes it just takes seeing the first component of the perfect gift to spark an absolutely flawless idea.  This summer, a recently-engaged One Girl Cookies' customer was contemplating the best way to ask her friends and relatives to be bridesmaids... she wanted to do something special, something unique, but what?  Then she happened upon "Two's Company Macaroon Limoge Trinket Boxes" while in Paper Source (one of our favorite places!).  Eureka!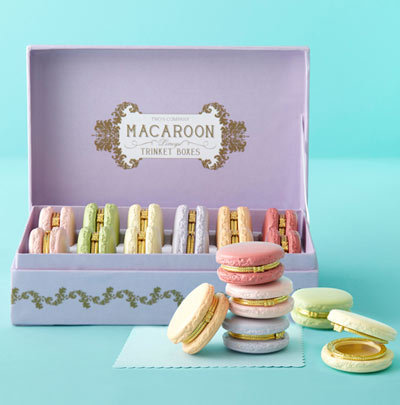 Bride-to-be Danielle gave me a call to chat about her idea and we brainstormed over the phone for a bit.   The idea... she would hand-write her message "Will you be my bridesmaid?" on a length of ivory ribbon, then hide that message inside the trinket box.  But she wanted to do something more... her question to us, was there a way we could hide the trinket box inside one of our gift boxes?  We had never done something like this before but my immediate answer was yes!  What a clever plan!  At this point, I hadn't seen the trinket boxes but based on the dimensions Danielle gave me over the phone, I knew that they were just about the same size as our whoopie pies.  I suggested using our whoopie pie gift box instead of the tea cookies; Danielle was 100% on board.  We planned to meet up in a week's time to finalize all of the details.
When we sat down over coffee and whoopie pies, we were pleased to see that the tinket box was indeed exactly the right size!  Danielle was excited about her bridesmaids' gifts and had already taken the idea a step further... adding a One Girl Cookies' cookbook for each of her ladies.  Now her besties would be able to make these treats again and again!  We chose to use a box of pumpkin whoopie pies, the trinket box would be nestled in the gift box in place of one of the whoopie pies and hiding inside the trinket box would be her surprise request... we'd tie the gift box to the cookbook with some of our lovely blue cloth ribbon and add a hang tag saying "Look Inside!".
I love this gift idea; it is such a sweet and thoughtful way to ask your favorite people to be a part of your special day!
And good news... Danielle says that all of her bridesmaids loved their gifts and are now big fans of One Girl Cookies' whoopie pies!